Praha – děti
Praha – děti
Trainings for children
These information are intended especially for children interested in our trainings and of course for their parents as well. Trainings are designed for children of 7 to 14 years of age. In this age children are already capable of choosing their interests and attending the training that can affect their physical and personal development. Children can come anytime during the year and try the training without any obligation. They can decide whether they want to continue or not. Then, all you have to do is fill the application and begin with regular trainings.
Children: You do not have to be afraid that somebody will laugh at you just because you did not manage something or because you do not know something. These trainings are here to teach you all this stuff!
During the training
Trainings for children are obviously different than trainings for adults, especially because their concept is based on learning through playing, which develops motoric skills. Each training starts with warm up and stretching, then we practice rolling, dodging, jumps and basic techniques (blocks, punches, kicks). We also play different games that develop physical skills. We try to greatly emphasize the creation of a good atmosphere on each training. Everybody tries to train as good as possible, considering his/her age.
The important part is also building the friendships among children. Older kids, once they reach certain level of skills, are guided to be able to advise the younger ones and thus become their co-guides in exploration of the martial arts.
Why are the martial arts trainings beneficial for children:
• general kinetic preparation leading to development of physical condition
• regular training helps to improve the mental condition as well
• improvement of self-defense abilities and development of the most of physical abilities
• children are taught moral values
• better understanding of individual abilities and realistic self-evaluation
• development of social sensibility and considerateness
• gives a chance to get new friends and helps to improve socialization
• etc.
Trainings are aimed to positively influence an overall development of personalities of children and adolescents. They are focused on lowering aggressiveness and limiting the potential social risk behaviour.
Take along
All you need is some sports wear, long sleeves and pants recommended, plus a sport shoes. Also, do not forget to take along a will to learn something and a good mood as well.
In case you will like our trainings and you persist, our traditional outfit is black Kimono with a belt and Tabi (Japanese shoes). All of this is possible to buy with our recommendation (and a discount) in one of the specialized martial arts shops.
Trainings in our Dojo:
Since October 2009, our Dojo offers regular trainings for children. These trainings take place in a building of Faculty of Mechanical Engineering on Czech Technical University in Prague, Karlovo náměstí 13, Praha 2, in a gym A3. The gym is very suitable for training of children due to its equipment. It has a modern surface and there are Tatami as well.
Schedule:
• Monday 3:30 p.m. – 4:30 p.m.
• Wednesday 6:00 p.m. – 6:45 p.m.
It is possible to enter the gym 15 minutes before the training.
How to get there:
• Metro line B or trams (3, 6, 14, 18, 22, 23, 24) to "Karlovo náměstí" station. You have to state at a porter's lodge that you are going to ninjutsu training for children in the gym A3. Once you pass the turnstile, go upstairs to the left towards the glass doors. The gym A3, our Dojo, is at the first corner.
You can find exact route here.
Map is accessible here.
Training are led by: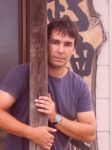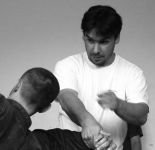 Shihan Pavel Slavík
email: pavels@bujinkanprague.com
mobile: 736208050
skype: pavels_bujin
Helping with trainings is:
Patrik Jirchovský, 4. Dan
email: patrik.jirchovsky@bujinkanprague.com
mobile: 603196640
---
From our trainings for children