Enbu na Japonském dni v Průhonicích 2019
Letos proběhl v pořadí již devátý ročník Japonského dne v botanické zahradě v Průhonicích, který je pořádán v rámci akce pod názvem Trvalkový víkend. Je to jedna z akcí, která je pro mě velice příjemná svou atmosférou a energií, a tak, když jsme dostali pozvání od Česko-japonské společnosti, zda bychom tam nechtěli mít enbu, moc rád jsem kývl, i když moc často enbu nemíváme.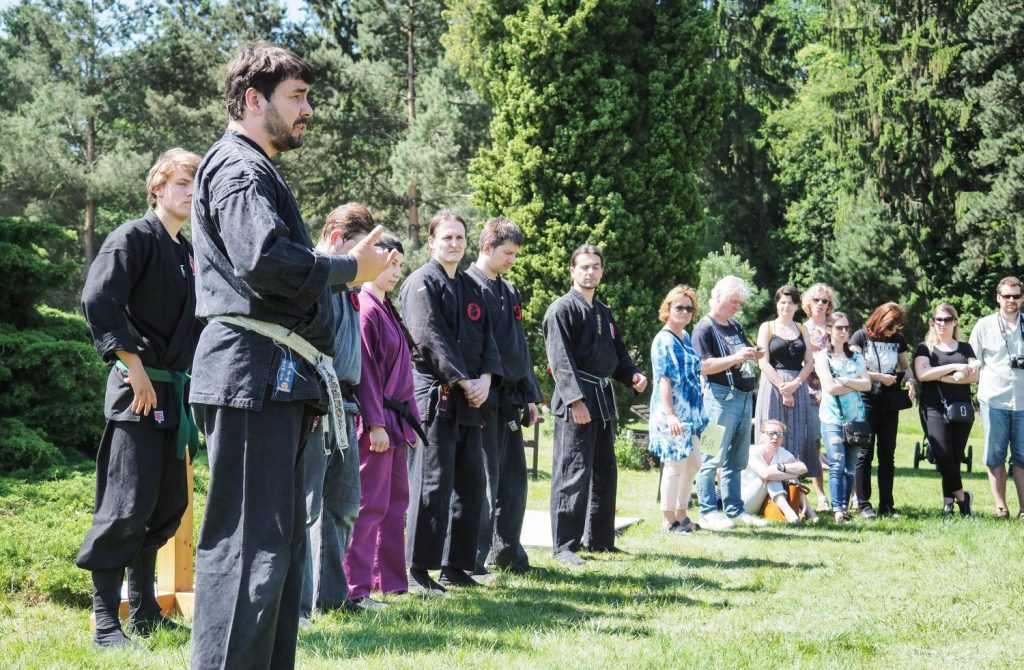 Jak víte, nejsem zastáncem toho mít vystoupení za každou cenu na akcích různých druhů. Bohužel má zkušenost je, že organizátoři některých akcí za nimi schovávají pouze svou touhu osobně se zviditelnit, nebo je pořádají pouze pro finanční zisk. Takové akce mě opravdu netáhnou a nechci být na nich účasten.
Oproti těmto špatně motivovaným akcím mě naše účast na Japonském dni v Průhonicích moc těší. Je zde vidět snaha prezentovat jednotlivé oblasti japonské kultury takové, jaké opravdu jsou, přičemž lidé si mohou sami vybrat program, který je zajímá, a to je mi velice sympatické. Ostatně, podle neustále se zvedající účasti na této akce, je to vnímáno i samotnými návštěvníky.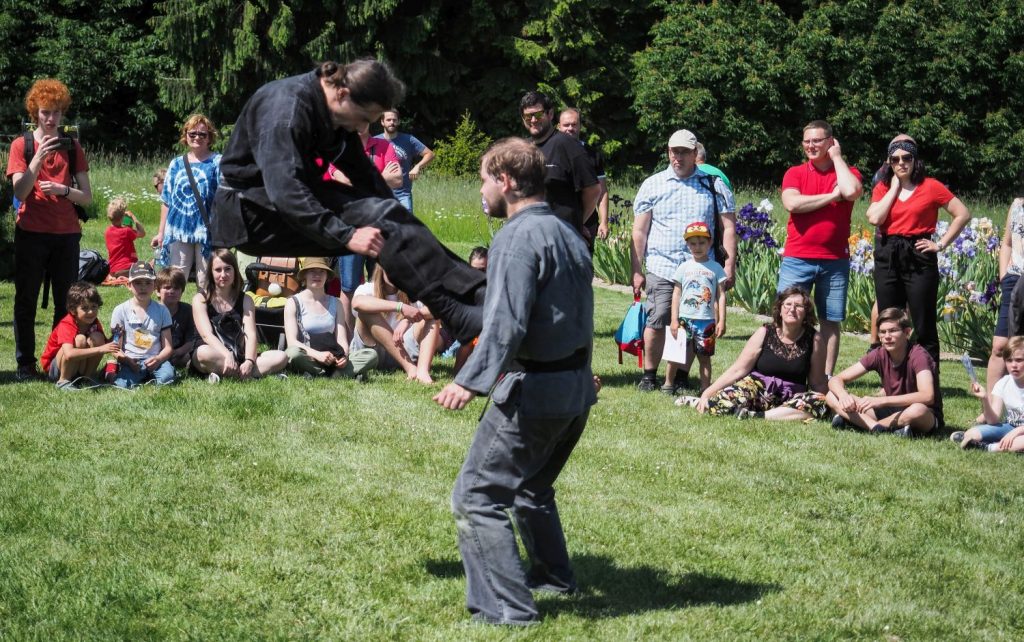 Letos byl program poměrně nabitý. V oblasti bojových umění zde měli vystoupení studenti pražské školy Hyko ryū taijutsu, kteří předvedli své umění sebeobrany. Setkání s nimi bylo pro mě velice příjemné a těším se na další. Dále proběhlo enbu školy Nakagawa ryū battōjutsu prezentované studenty z Kenshōkan Dōjō Prague. Jedná se o školu japonského meče, kterou zastřešuje Nakagawa sensei, který několikrát navštívil i naše dōjō, aby se podělil o své techniky. Další ukázkou bylo kyūdō v podání pana Václava Kučery. Během své ukázky pan Kučera velice zajímavě vysvětlil důležité body kyūdō, včetně jedné ze základních technik vyučované v japonské lukostřelbě. Poslední ukázkou z oblasti bojových umění Japonska bylo dětské judō.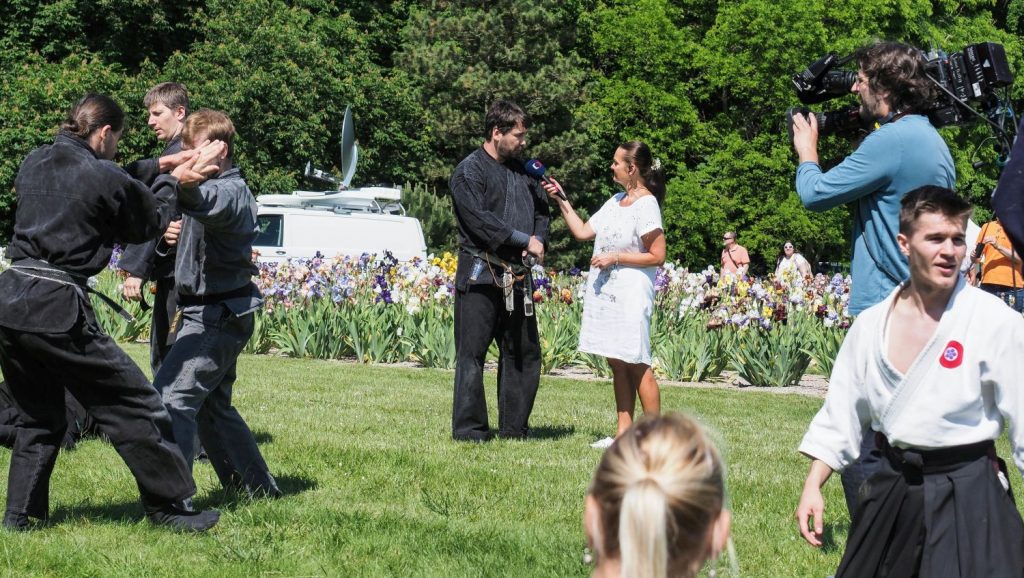 Na naše vystoupení jsme dorazili v sestavě Ľudo, Miki, Pepa, Jenda, Lucka, Filip a já. Sešli jsme se na místě už okolo deváté hodiny ranní, abychom se připravili na vstup České televize, ve kterém s námi počítali, a samotné enbu proběhlo někdy kolem 12 hodiny. V plánu jsme měli ukázat několik oblastí našeho tréninku počínaje taihenjutsu (pádové techniky), taijutsu (neozbrojený boj), ve kterém jsme krom technik kihon happō ukázali suwari waza – techniky v sedě, gyaku waza – pákové techniky, daken taijutsu – využití úderů, kopů, nage waza – techniky přehozů a další, konče ukázkami technik se zbraněmi – tōjutsu (šerm), bōjutsu (dlouhá tyč), kusarijutsu (řetězové zbraně), hanbōjutsu (krátká tyč), shikomi-zue (čepel ukrytá v tyči), naginatajutsu (halapartna) a metsubushi (oslepující techniky). Pro zájemce jsme poté přichystali malou výstavu zbraní vyučovaných v rámci ninjutsu a odpovídali na dotazy návštěvníků Japonského dne. Opravdu všem veliké díky za jejich čas a pomoc při prezentaci "našeho ninpō".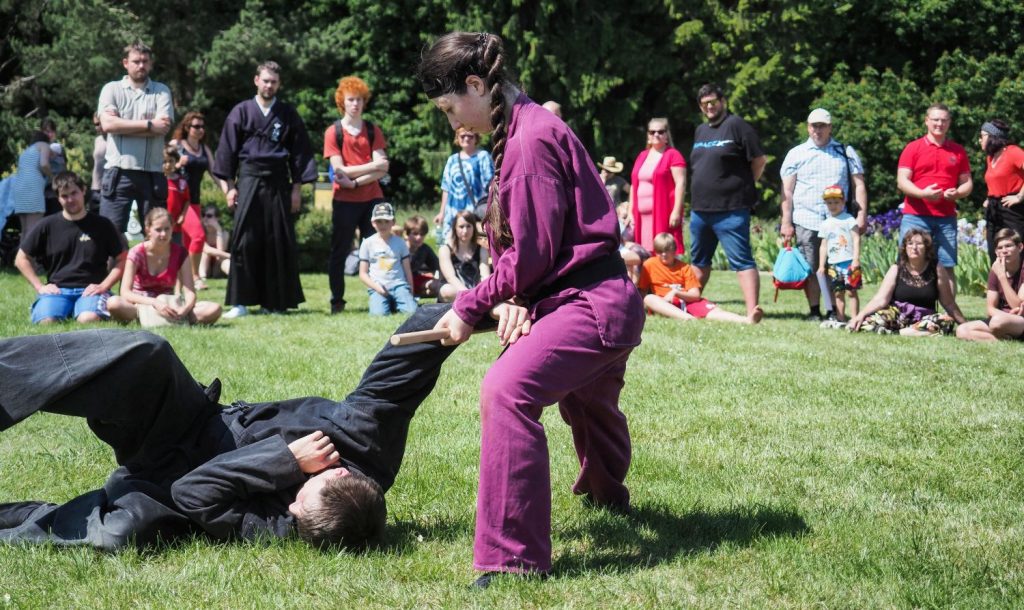 Program nebyl vůbec primárně zaměřen na bojová umění, ale celkově na japonskou kulturu. Tady aspoň v bodech s čím vším se mohli návštěvníci setkat a seznámit:
skládání origami
oblékání kimon
japonské šachy shogi
japonské umění lesní terapie Shinrin-yoku
pražská studijní skupina Sogetsu předvedla aranžování květin Ikebana
čajový obřad školy Urasenke
Vlastislav Matoušek zahrál na bambusovou flétnu shakuhachi
taneční vystoupení skupiny Yosakoi
workshop japonské tušové malby sumi-e
bubenická show skupiny Wadaiko yosa yosa
paní Darja Kawasumi měla přednášku na téma "Itadakimasu"
Aleš Trnka mluvil o symbolice v japonských zahradách
o proměnách v japonské přírodě a japonské kultuře mluvil Robin Heřman
A o to, aby všichni měli dostatečný přísun pochutin a nápojů, se starala Japonská domácí cukrárna, firma Matcha tea a tradičně již japonská restaurace Miyabi, bez které si nedokážu tuto akci téměř představit.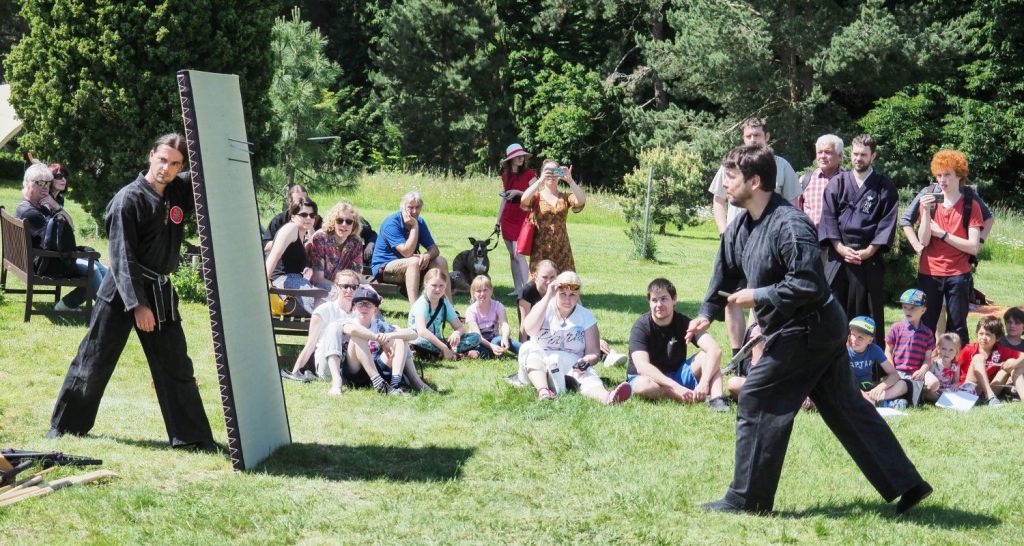 Na akci dorazil i japonský velvyslanec v ČR pan Shimazaki se svou chotí, který přivítal návštěvníky Japonského dne od mikrofonu, a pak se za doprovodu ředitele Botanického ústavu AV ČR Jana Wilda a radního středočeského kraje Martina Draxlera seznámil s prostředím botanické zahrady.
Jestli jsem na někoho zapomněl, tak se hluboce omlouvám, nebylo to mým záměrem. Pokud mě na to upozorníte, rád přehled programu doplním.
Z ranního programu tohoto Japonského dne byla krátká reportáž v České televizi, kterou můžete shlédnout na tomto odkazu:www.ceskatelevize.cz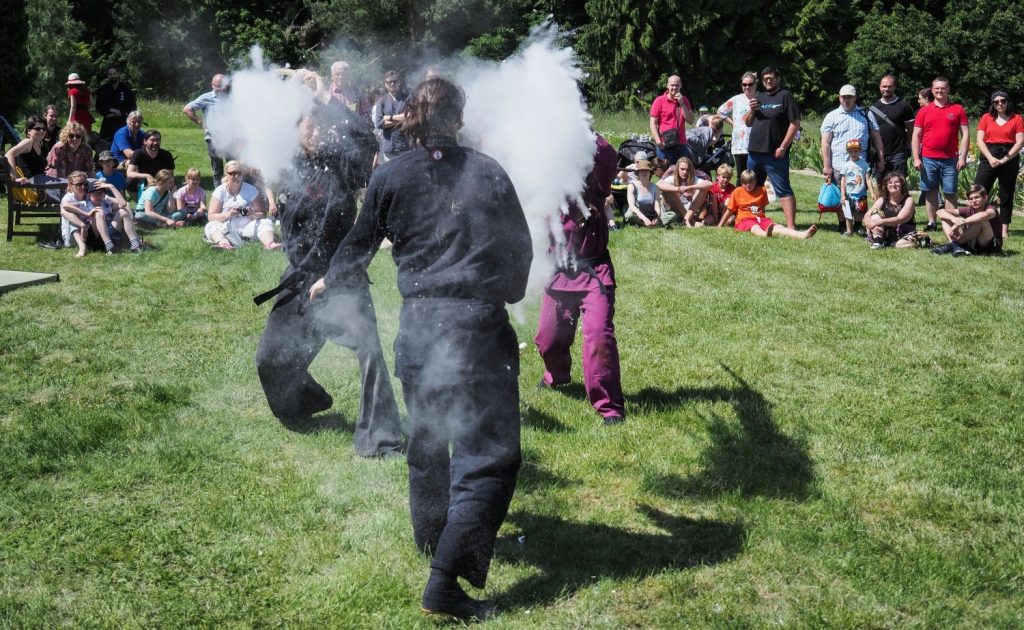 Nezbývá než dodat, že se těším, až se příští rok budeme moci zúčastnit již desátého ročníků této fajn akce, a je jedno, zda jako účastníci nebo návštěvníci. 😉
Text připravil: PavelS
Foto: Pavel Pližingr